Are you interested in performing as a Rising Star songwriter at the one of our festivals? We are looking for professional singer songwriters to share their creativity and music with our audiences.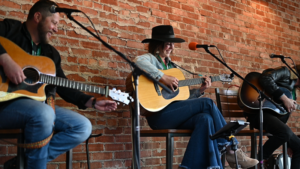 We hire two levels of songwriters for our festival. Our hit songwriters write for country music stars. The criteria to play on this stage is to have written one or more #one hit songs. Past performers include, Wynn Varble, Kostas, Tony Lane, Hugh Prestwood, and Even Stevens among others.
Our Rising Stars are hired to play in the various pubs and restaurants in town. These are in a song-swap format with two to three songwriters. Each show is an hour in length. You will likely play in a different venue with different songwriters each day. We pay our Rising Star songwriters a set talent fee for performing shows on a combination of days—Thursday, Friday, and Saturday. We do not pay expenses. The fee is reflective of the experience of playing at our festival and enjoying our mountain communities of Montana and Wyoming.
We are looking for songwriters who are making a significant portion of their income from performing. We also look for songwriters that have a significant presence on social media, facebook, Spotify instagram and dedicated website.
We do not hire songwriters through managers or management companies. If you are obligated to a management company we encourage you to pay them their booking fees but understand we will communicate directly with the you, the songwriter.
If you are interested in being one of our Rising Star Songwriters at the Red Lodge Songwriter Festival June 23-25, 2022 in Red Lodge Montana, the Whitefish Songwriter Festival September 15-17, 2022 in Whitefish, Montana or the Yellowstone Songwriter Festival September 8-10, 2022 in Cody Wyoming please send a CD of your original music and bio to:
Mike Booth
Rocky Mountain Songwriter Festivals
P.O. Box 830
Red Lodge, Montana 59068
Thanks for your interest.